If you have stumbled upon this paid promoted channel on YouTube recently or somehow came across other similar social media post of this 'Genius Doctor ' and your curiosity has led you to this article then you have reached the right place. However, if you don't know him already then this article will educate you on how to decode this new breed of 'Genius Doctors'.
The promoted click-bait video of this guy named Padmakar Kumar titled "Natural Solution to Any Lifestyle Disease" starts off with a wonderful premise "I'm a Practicing Medical Doctor but I don't prescribe medicine rather I help you to quit your medications." In the video, the supposed 'Practicing Medical Doctor' lists his illustrious academic records and achievements one by one. When you review the 'About' section of the channel you realise that the 'Genius Doctor' was very much humble about stating his credentials in the video. He is additionally an author, teacher and has a PhD from Harvard University. The video which has over 140k views (while the majority of other videos has barely 1k views) with the help of paid-promotion claims cure for all diseases without medications, including heart ailments, kidney, diabetes, blood pressure, asthma, arthritis, obesity, cancer, skin-related, liver disease, thyroid, you just name it. Kumar charges INR 11,000.00 for online-only consultations.
Here's our fact-checking analysis on this fraudster and his modus operandi:
Kumar has been posting misleading health videos on the YouTube channel badging himself as a "Health Educator" until March 2020, and suddenly he appeared with his impressive new Avatar of a genius Medical Doctor with the pre-nominal "Dr.".
The journey from a 'Health Educator' to 'Genius Doctor ' in an about 6 months
Claims of qualifications:
Our investigations revealed that Kumar holds a BA degree from The Indira Gandhi National Open University (IGNOU) which he completed in 2013/14 at the age of 29. He has no medical or para-medical qualifications and is not a doctor. Kumar is simply conning ignorant and unsuspecting people with his diploma mill qualifications obtained from a bogus university. This is a common tactic employed by the devious medical quacks. They gain the trust of the gullible people portraying themselves as a credible person having acceptable qualifications.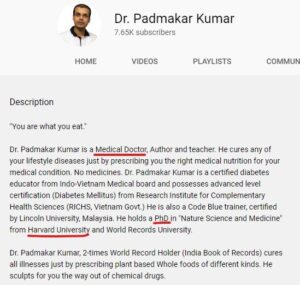 PhD from Harvard University: This is a false claim. Harvard Medical School does not run a doctoral programme on Nature Science and Medicine and there is no way anyone can do an academic programme of Harvard University sitting at the comfort of their home in India. This is at best a Harvard Medical School Online CME courses usually of 1 to 2hrs duration in which anyone can attend.
PhD from World Records University, UK: World Records University which claims to be based in the UK, in reality, does not exist anywhere in the world let alone in the UK. It is a Diploma Mill operates from a dingy office in Faridabad, India.  More details about it (including proof) and kingpin of this fake degree racket are available in our previously published fraud alert article.
Certified Diabetes Educator from Indo-Vietnam Medical board: This is a bogus medical board and a fraudulent organisation operate from the same above address in Faridabad. The name 'Indo-Vietnam Medical board' is a devious design to deceive gullible people and to bypass India as well as Vietnam government regulators.
Advanced level certification (Diabetes Mellitus) from Research Institute for Complementary Health Sciences (RICHS, Vietnam Govt.): This and the above two catchy sounding organisations are part of same fake qualifications racket and are fraudulent organisations.
Other claims:
Kumar claims to hold World Records although did not specify what it was for. It was for his extraordinary feat of spinning drumstick 45 times on the thumb in one minute!
Anyone can buy such records from India Book of Records for money in no time. Any claims are acceptable. India Book of Records is a fraudulent organisation part of the same organised syndicate of fake qualifications racket that we identified in the previous section. All these fraudulent organisations operate from a dingy office in Faridabad. This includes a University, Medical Board, Research Institutes, multiple Book of Records (including Asia Book of Records, World Records Union, World Creativity Science Academy), Publication House and many more other fraudulent organisations. These are all part of the same fake Award-Degree racket.
Other facts:
Kumar has been a private home tutor for school students for a long time.
Kumar like his guru Biswaroop Roy Chowdhury has self-published a science fiction novel titled 'The 3rd Eye' on Instamojo.com which rightfully earned him the title of self-proclaimed "Author".
Kumar unsuccessfully tried to write scripts for movies (again, just like his guru).
Kumar is currently heavily using paid-promotions on YouTube and other social media to promote himself.
Conclusion:
The purpose of this article is not just to expose Padmakar Kumar who is barely known to anyone but also to alert the society about a growing new breed of quacks who arm themselves with multiple bogus accolades, degrees and use sophisticated techniques to gain trust and impress the unsuspecting people. There is a whole raft of such fake 'doctors' and 'Diabetic Educators' spread across the country. If you come across such individuals you now know how to decode their devious designs.
GOOD TO KNOW: How to spots such new-age quacks with fake degrees
The first sign of the fraudsters and quacks:
They claim to have a cure for all diseases.

They promise a quick and easy solution to a host of illnesses.

Claims their treatments have no-side effects.


They say that most diseases are due to faulty diet and can be treated with "Nutritional" methods.


They often offer "money-back" guarantees and challenges.

They have a long list of testimonials to show.

They usually, portray themselves as multi-talented and self decorate themselves as Scientist, Researcher, Professor, Author, World Records Holders etc.

They have abundant time to spend on social media
The first sign of fake diploma mill qualifications:
They will flaunt their credentials.

They will usually emphasise some "international" links to their qualifications you never heard of.

Use Google to check the validity of the courses and from the countries Education Department's website.

University URL will have a non .ac domain. (For example www.du.ac.in is a genuine academic establishment)

Fraudsters usually will have an overseas address to improve their image and bypass the regulators of the country they operate from. Google Map and associated photographs can give a good idea if it looks like an academic establishment.

Search Authoritative information on International Higher education institutions: World Higher Education Database (WHED)